Birthday twins
My birthday was last week! Jesse got to be off for my birthday (hooray!!!) and as we were planning what we'd do, I discovered that I share a birthday with the famous Mexican artist, Frida Kahlo:
We also remembered that the Detroit Institute of Arts was towards the end of hosting a special exhibit about her and her husband, artist Diego Rivera--and that on her birthday (my birthday!) they had cheaper entry tickets and birthday cake to celebrate :)
Well, they had me at "free cake," so on my birthday we dropped Niko with some friends and drove to Detroit!
The exhibit was really incredible. I didn't know much about Kahlo before, but I made sure to read up on her a little before we went so I could appreciate her art better.
They didn't allow any photography (or even sketching!) in the exhibit, so I've included one of my favorites below, titled "Self Portrait Along the Border Line Between Mexico and the United States."
Most of her art that moved me the most was created after her time in Detroit (during which Diego Rivera was commissioned to paint the murals pictured below in the DIA). While there, she experienced a miscarriage, and she coped by turning to art.
Diego described it well in his autobiography
,

"Frida began work on a series of masterpieces which had no precedent in the history of art -- paintings which exalted the feminine qualities of endurance of truth, reality, cruelty, and suffering

. Never before had a woman put such agonized poetry on canvas as Frida did at this time in Detroit."
That feeling really came through in her art--so many of her pieces are incredibly personal, in a way I haven't found in a lot of other art. (By the way, if you're interested in reading more about this,
here
is a great article)
After the exhibit, we headed to the mural room to see again the Rivera's incredible work:
Being there brought to mind this photo that we saw in the exhibit: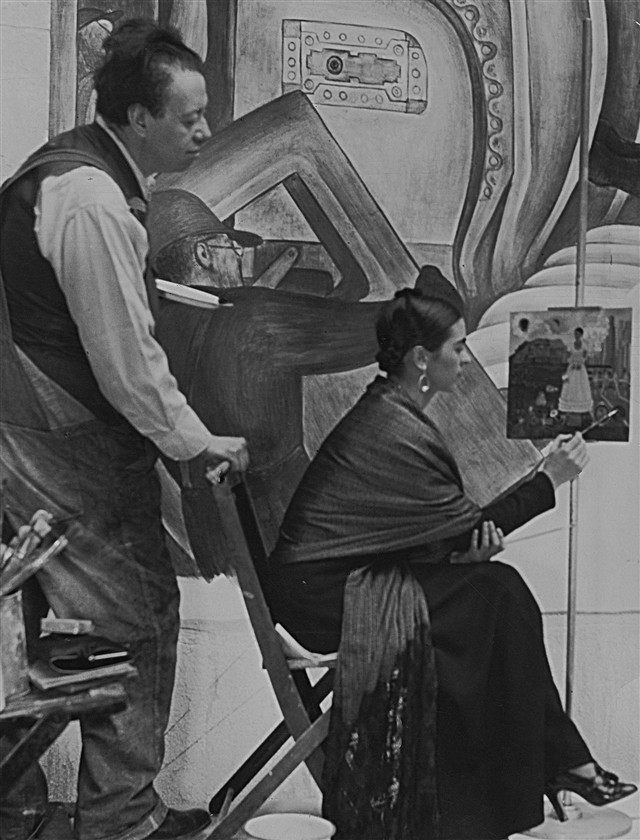 In it, Frida paints in the mural room while Diego works. The painting she's working on is one from after her miscarriage, when she was trying to express and cope with her pain through art.
There was something about being in the same room where she painted that was really powerful for me.
Channeling some Frida with my braids:
And then we snagged some free cake:
Yum!