Books I read in 2014
A semi-articulated goal of mine for 2014 was to read more, and read more I did! I started out the year by making a gigantic google doc full of books I wanted to read (some I came across organically, others were recommendations by family members and bloggers) and a section for books that I read. I know, I know, I could just use goodreads, right? But the google doc gave me the power to put in all the info I wanted (genre, recommended by, finished on, etc), all in one hyper-organized place.
All year I added books to the "to read" column and gradually dragged a few over to the "read" column as I plowed through the list. Looking back, there's definitely a pattern to how I read--I've found that I either read hardly anything for weeks (or even months!) and then I'll read 3-4 books in the space of a week or two. It's definitely an odd way to read, but that's the way I do it, I suppose!
Just for fun, here's some stats I compiled about what I read:
Total books read: 33
Standalone books: 13
Books that are part of a series: 20
Non-fiction: 1
Adult Fantasy: 1
Adult Fiction: 4
Historical Fiction: 4
YA Lit: 2
YA Sci-fi: 5
YA Dystopian: 7
YA Fantasy: 9
Total pages read: 11,975
(In short: I read a lot of pages, and not enough non-fiction! ;D)
Without further ado, here's the list (broken down by month and marked with the date finished) of what I read this year!
January
Between the Devil and the Deep Blue Sea by April Genevieve Tucholke (1/20)
February
Secret Life of Bees by Sue Monk Kidd (2/26)
March
Shadow and Bone by Leigh Bardugo (3/7)
By far, my favorite book/series that I read this year was this series by Leigh Bardugo. It's got an interesting YA fantasy premise with cool magical powers and such, but my favorite part is that it's set in a pre-industrial Russia-like setting, with lots of Russian folklore and faux-Russian names. Honestly, more than anything else, this rich and vibrant setting really made these books for me!
Enclave by Ann Aguirre (3/8)
Outpost by Ann Aguirre (3/9)
Horde by Ann Aguirre (3/10)
I thoroughly enjoyed the above series by Ann Aguirre. It's a gripping zombie series that was juuuust scary enough to be exciting but not so scary that I had nightmares. Someone recommended that I just check out all 3 at a time because it was terrible to have to wait to read the next ones, so I got my hands on all of them and read them in 3 days!
Siege and Storm by Leigh Bardugo (3/25)
April
The Grand Sophy by Georgette Heyer (Not sure when I finished this one!)
If you love Jane Austen and the Regency Era, pick up this book! It was a delightful story with a fun and interesting main character, and I loved reading it.
The Handmaid's Tale by Margaret Atwood (4/6)
Matched by Allie Condie (4/17)
Imager by L.E. Modesitt (4/28)
May
Dangerous by Shannon Hale (5/2)
Dangerous is probably my second favorite book that I read this year. It starts as a story about a young girl that goes that space camp for a few weeks, but ends up being a fantastic super hero/alien powers book that I couldn't put down. It was so good, I immediately made Jesse read it too!
June
Crossed by Allie Condie (6/4)
Reached by Allie Condie (6/27)
You'll notice I read the whole Matched series by Allie Condie, but haven't commented on it! I liked it enough to read all 3, obviously, but I'll admit that by the third book I was just slogging through to find out how it ended. I think this is a series that definitely works for some people, but didn't so much for me.
The Ocean at the End of the Lane by Neil Gaiman (4/27)
Ah! This book! Neil Gaiman, as those of you who have read him know, is a masterful storyteller with a vivid imagination. This story introduces us to a middle-aged man on his way to a funeral reception, before quickly delving into his forgotten childhood memories, full of ancient magic and strange monsters. I loved the beautiful prose, the imaginative world Gaiman created, and the lovely way that Gaiman showed us a strange world through a child's eyes. This is one book I definitely need to own and re-read!
July
Pivot Point by Kasie West (7/5)
Hild by Nicola Griffith (7/15)
By far the most different book I read this year, Hild is the story of Saint Hilda of Whitby in seventh-century Britain. It was an extremely well-written book, marrying great character development with an interesting look at what life in 7th century Britain was like, both for those struggling for power (such as various kings and princes) and for the powerless (peasants and women).
Split Second by Kasie West (7/16)
Burial Rites by Hannah Kent (7/24)
August
Daughter of Smoke and Bone by Laini Taylor (8/1)
Days of Blood and Starlight by Laini Taylor (8/4)
Dreams of Gods and Monsters by Laini Taylor (8/27)
The above trilofy by Laini Taylor is another series that I enjoyed enough to see all the way through, but not enough to rave about. Taylor created a fascinating world with interesting characters, but the ending of the third book was so completely unsatisfying that it sort of ruined the other books for me.
September
Ruin and Rising by Leigh Bardugo ( 9/15)
This is not a Test by Courtney Summers (9/30)
October
Lean In by Sheryl Sandberg (10/28)
This is the only non-fiction book I read this year, and I'll be honest, I didn't even finish it! It was an interesting look at the struggles women face in the workplace and some ideas for how to make things more equal (both on the part of men and women) but honestly, I had a hard time relating to Sandberg's life (she mentions struggling one year when her husband commuted by plane for his work in another city and wasn't home very often...I see how that could be a struggle for her, but that will, never, ever be something I'll face in life so I had a hard time relating!) so I didn't end up finishing it. I found enough of value in it though, so I'm still glad I picked it up!
November
The Curious Incident of the Dog in the Nighttime by Mark Haddon (11/6)
Steelheart by Brandon Sanderson (11/12)
All the Truth that's in Me by Julie Berry (11/14)
Cinder by Marissa Meyer (11/18)
December
Scarlet by Marissa Meyer (12/9)
Between the Spark and the Burn by April Genevieve Tucholke (12/11)
A Christmas Carol by Charles Dickens (12/17)
These Broken Stars by Amie Kaufman and Megan Spencer (12/29)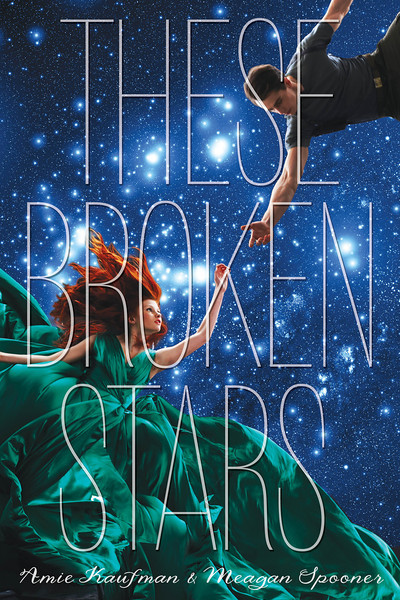 I just finished this book a few days ago and loved it! The authors created a vibrant world of galactic colonization and rigid class systems, then added a survival story on an unfamiliar planet with two characters who couldn't be less happy to be stranded together. I loved the sci-fi elements (What would falling out of hyperspace unexpectedly look like? How about a semi-terraformed planet?) and really enjoyed that character development. The next book just came out and I can't wait to read it!
So there's that! Sorry for the extremely long post--I know this isn't relevant for that many of my readers, but I really wanted to have a good record of what I read this year! Here's hoping I manage to read a lot in the new year as well! :)